I don't blog much these days, for a lot of reasons, but mostly it's because I'm lazy and not committed to producing a quality post at regular intervals. However, here are some updates which you may or may not find exciting:
I have a boyfran. His name is Michael. He calls me his Bendle. Story: It was raining one night when he was coming over and just before he left I told him to "bendle up." I didn't notice that I'd inadvertently replaced the "u" with an "e" until he said he was ready to go, and that he just needed to grab his shoes, keys, and bendles. From there it evolved into him calling me a bendle. Yep. Nauseating.
REVENGE IS MINE!
Michael and I are going to Seattle this summer to complete an intensive language program at the University of Washington. It is going to be expensive and stressful, but the trade off is that he and I will both get a year ahead in our respective languages (he's studying Japanse) and we will be able to spend an awesome summer together in a pretty awesome city (though I hear it's full of buttholes).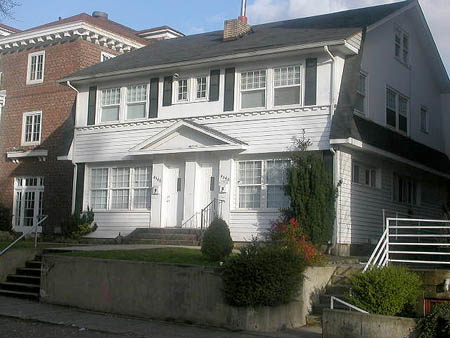 Subletting this place from my friend's sis. WOOHOO!
I have successfully learned how to be a slacker. Example: Today I received back a book review I wrote in the spare hour and a half I ended up with before a class on a book I BARELY skimmed, and recieved an A- on it. Instead of studying I have spent all of my time with Boyfran watching things on Netflix, doing Boyfran-Girlfran things, spending money on new clothes and handbags (z0mg cuteness to come) and a new camera (z0mg will bring you the forthcoming cuteness), walking to dates (we dressed up cute and ate at Ellensburg Pasta Co.), and generally being adorable. WINNING!
Work is awesome still, too, though my schedule this quarter requires me to jump back and forth between the library and L&L. Since the two are next door, it isn't a massive hassle, but it does make me a bit rushed. Oh well, though, I love my job - even when the software doesn't work properly. One of my favorite things about my job is that my friends can come and visit me every day. Sometimes this causes problems (as we end up talking for an hour!) but it makes me feel like I'm the center of something, and that's a good feeling to have. It's an especially nice feeling when Michael comes to visit because half the time he brings food (tonight was a protein smoothie) and/or his friends with him.
A good blogger - or even, possibly, me, if the stars were properly aligned - would turn each of these items into Homeric epics. But, since I'm so lazy....
Met up with Michael to walk to class and he'd made me this little nosegay of wildflowers and dandelions. How cute!