10. Daniel McMann's wedding gift to Carla Tate in
The Other Sister
.
9. Nino Quincampoix's discovery of the Myster Man as orchestrated by Amélie in
Le Fabuleux destin d'Amélie Poulain
.
8. Teddy proposes to Jo in
Little Women
.
7. Fin uses some fruity soaps for Maggie in
Waking Ned Divine.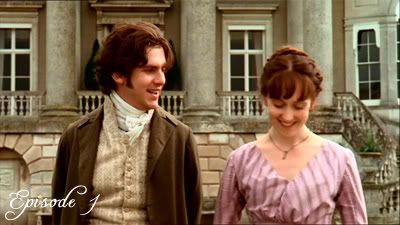 6. Edward Ferrars' revelation to The Dashwood women in A&E's
5. Edward Ferrars' revelation to The Dashwood women in Ang Lees's
Sense and Sensibility
.
4. Mr. Darcy's confession to Elizabeth Bennett in A&E's
Pride and Prejudice
3. Michael Vartan jogging into the stadium to The Beach Boys'
Don't Worry Baby
to meet Drew Barrymore in
Never Been Kissed
.
2. The conclusion of
Sliding Doors
.
1. Christian's vocals in
Moulin Rouge
!
I would love to extend this into a top (20? 40?) but I've got such a headache I don't have the patience to add more photos at the moment. I'll seek to remedy this tomorrow, and will include, at the very least, Bridget Jones's Diary. I really only wanted to make this list so I could talk about how freaking amazing Ewan McGregor is. The first time I watched Moulin Rouge! and Ewan opened his mouth to sing I nearly fell out of my chair. It still gives me goosebumps to listen to him sing!